If you need to park near Callao, the Callao - Gran Vía 48 garage is one of the best options. Try it and enjoy a unique experience. Fully robotized with 320 places divided into 5 cabins, this spectacular, technological and innovative garage of the future is located in Madrid, just 50 meters walk from Plaza de Callao. Within one of the most emblematic areas of the capital, where to walk, to go shopping or to enjoy the famous cinemas and theaters of the area.

TO BEAR IN MIND:
When you get to the garage:
1) Enter and follow the instructions of the staff
2) You must leave the vehicle on the automatic platform
3) You can use the card or remote control provided by the staff to enter and exit the garage during your stay.

Important: Since it's an automated garage you must verify that your vehicle meets these conditions:
Height: 2 m, Length: 5.25 m, Width: 2.20 m,
Weight: 3.000 Kg, Minimum space between the floor and the car: 10 cm - Maximum wheel load: 625 Kg

Your vehicle can be equipped with roof load bars, only if they can be removed. If your car is a big Land Crusier, long Mercedes Vito, Audi Q7 with all the extras or Range Rover Vogue you should look for an alternative, you can not enter this garage.

The garage has the best security systems so that your vehicle is accessible only by the owner, without the possibility of theft, scratches or dents caused by other cars.
It also has staff at your service to help you both in the entry and exit process.
Parkeren bij Plaza del Callao.
Routebeschrijving
Access from Plaza España: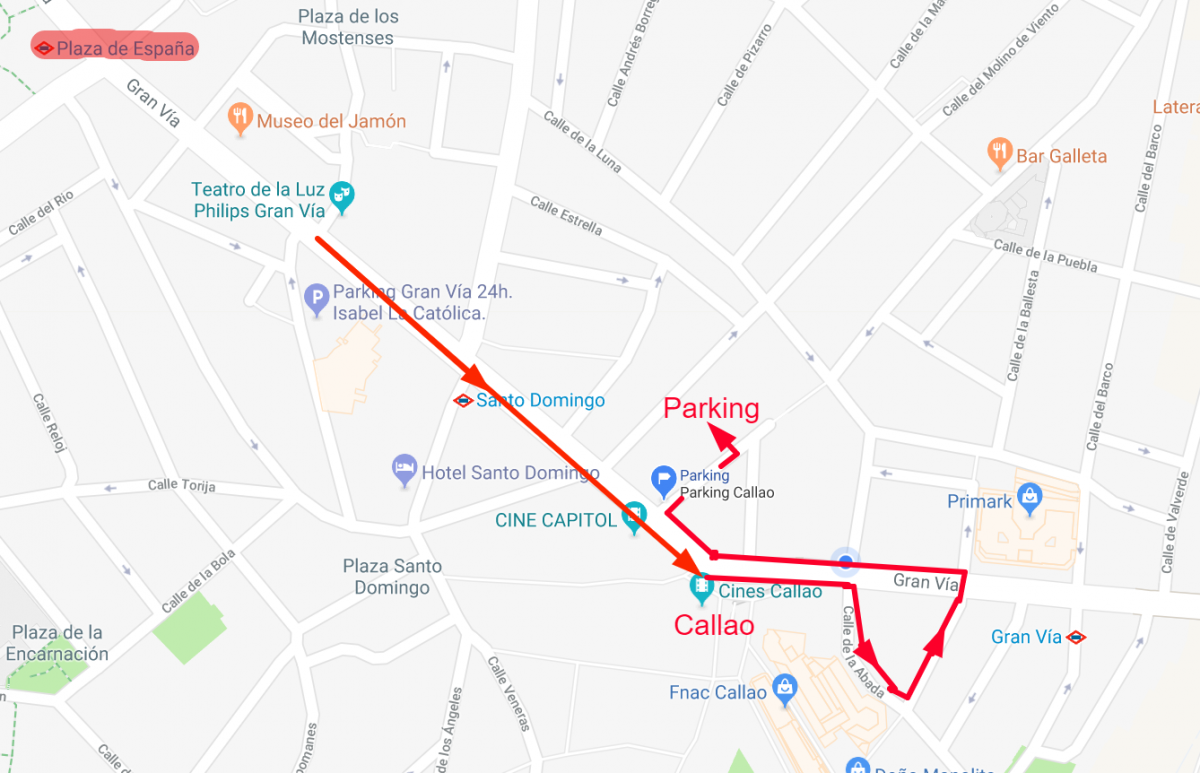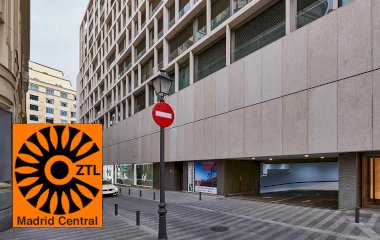 Parkeren toegangssysteem
Wanneer u de parkeergarage neemt u de ticket en toon uw bevestiging op het bedieningspaneel stand.
Prijs * Prijzen kunnen variëren per seizoen.
MULTIPASS

U kunt in en uit te komen met uw auto tijdens uw verblijf (Alleen geldig voor reserveringen van meer dan één dag en binnen de openingstijden van de parkeerplaats).

Een uur
€ 1,99
2 uuren
€ 3,74
3 uuren
€ 5,48
4 uuren
€ 7,22
8 uuren
€ 12,76
12 uuren
€ 18,30
24u
€ 23,50
2 dag
€ 47,00
3 dag

€ 70,50

€ 69,42
4 dag

€ 94,00

€ 78,84
5 dag

€ 117,50

€ 88,27
6 dag

€ 141,00

€ 97,70
7 dag

€ 164,50

€ 107,12
14 dag

€ 329,00

€ 165,93
21 dag

€ 493,50

€ 221,86
31 dag

€ 728,50

€ 262,40